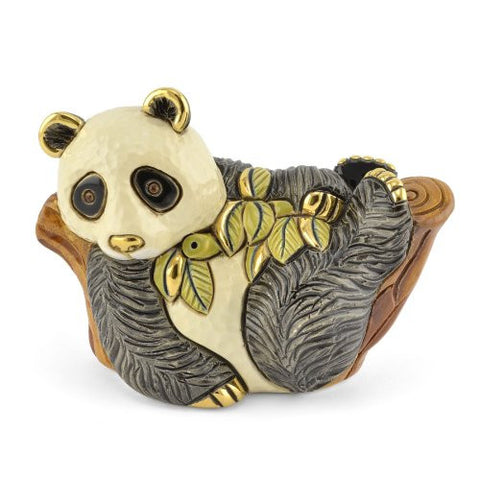 De Rosa Collections Panda on Tree F166
De Rosa Collections figurines are unique works of ceramic art designed by Uruguayan artisans and craftsmen. Once a master design is approved, a mold is made into which liquid ceramic is poured. When semi-dry the figurine's form is removed from the mold. At this point, it's quite smooth and must be carved before the ceramic hardens to add texture, detail and personality. Each figurine is hand carved by a skilled artisan, so no two are exactly the same. When the carving is complete, the figurine goes through its first kiln firing. Afterwards, it's hand painted with a colorful variety of ceramic slips and bright enamel glazes. When the painting is completed, each figurine once again needs to be fired in the kiln. Colors fire at different temperature settings, so many firings are required, and some designs may be fired up to five or six times to achieve the desired result. The application of 18-karat gold and platinum mark the final step and signature flourish in the creation of De Rosa Collections figurines, resulting in designs which please both the eye and the heart. Each figurine arrives in a De Rosa signature box and includes a Collector's Guide which certifies authenticity.
World-renowned ceramics, handcrafted in Uruguay by talented artists
Molded ceramic is carved before it hardens, then hand painted
Accented with hand applied 18-karat gold and/or platinum
Each is unique and may vary somewhat from photos
5 x 2.6 x 3.5 inches (LxWxH); includes signature box and brochure
---
QUESTIONS & ANSWERS
Have a Question?
Be the first to ask a question about this.
Ask a Question